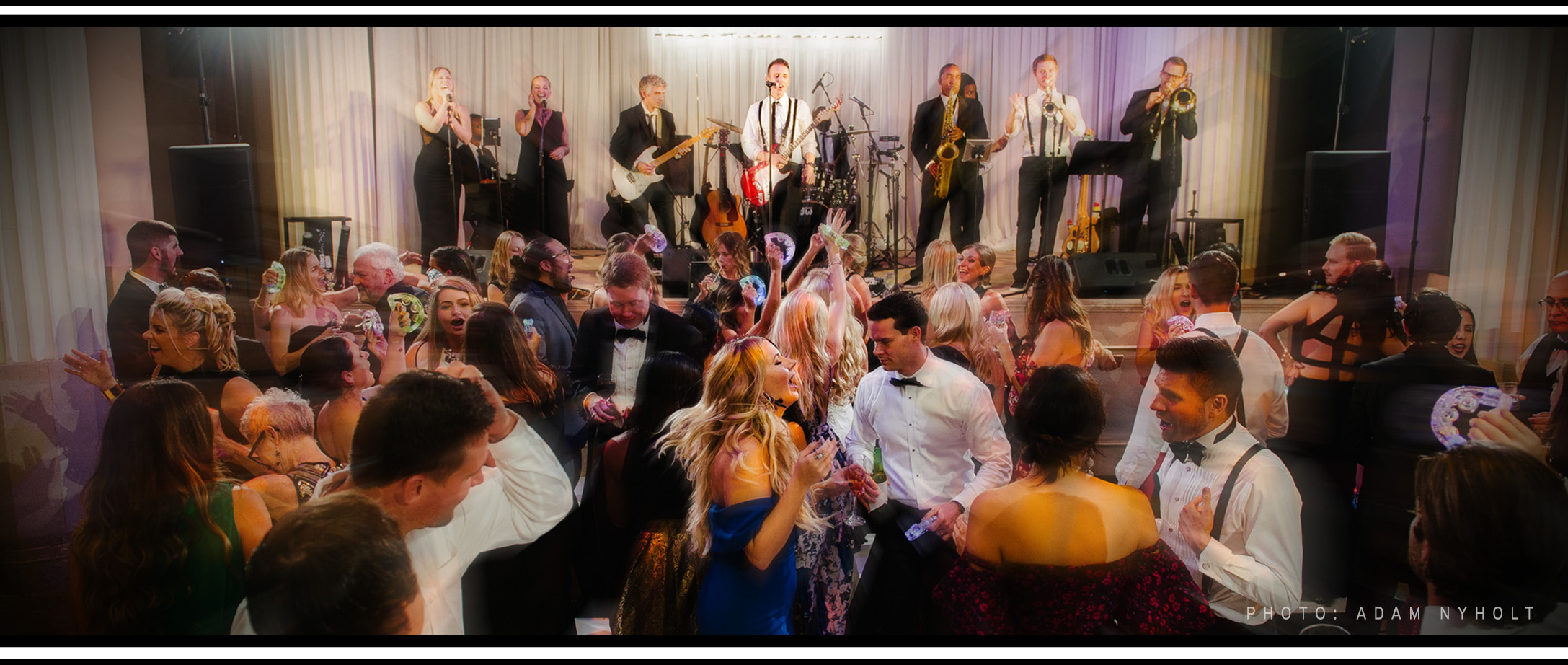 What We Do
Our job starts when we talk with you about the types of music you love and our job ends when your friends and guests come up to you at the end of the night and say, "this was the most fun I've ever had!" Whether that event is a wedding reception, a corporate party, or a life celebration, what we do is almost always the same. We seek to make a connection with EVERYONE there. Most often, that "connection" means having the band on stage and grooving as guests enter the room and eventually getting to the point where the musicians are all on the floor/tables/chairs surrounded by all the guests and dancing and singing at the top of their lungs. Ultimately, this is what we do every week.
The same 6-14 musicians play together multiple times a week entertaining a wide-range of guests. At an intimate 70-guest dinner we might play some classic Sinatra and The Beatles mixed in with acoustic versions of Ed Sheeran and The Lumineers. As a 10-piece band at a wedding reception we might keep the party jumping with some Earth, Wind, & Fire, Queen, Bruno Mars, and some fun dance mashups. At a 400-person corporate event, we may rely on our read of the room and mix in song choices over the past 50 years while inviting everyone into the party.
RECEPTIONS
By discussing what your vision is for the reception and your preferred musical styles, you're never stuck with a generic set list. Based on the energy on the dance floor, songs get rearranged, mashups happen, a new song gets thrown in last minute, grooves we've never done before occur ... all based on what's happening in that moment. WE NEVER KNOW UNTIL WE'RE THERE! Our goal? Music that is responsive to you, your guests, your event, so that we create a truly unique, dynamic, and energetic experience.
We can seamlessly transition from being an acoustic and/or jazzy cocktail and dinner-hour band to a high-energy dance band. We provide top-of-the-line sound equipment, wireless mics, lighting, and the soundtrack to the night. You provide the dancing.
EVENTS
DANNY RAY and the ACOUSTIC PRODUCTION has a wealth of experience playing corporate events for locally-owned businesses and multi-national Fortune 500 companies. Whether it's a brand launch, a store opening, or your annual 400-person holiday party, let us set the right tone for you. In addition to making sure the guests commenting on how great the band was, we often assist with the event production through lighting, and wireless microphones for any announcements or presentations.
Having a private party? Live music makes for a very interactive environment! We can perform in any range from a 3-piece trio to a full band. We've been a part of birthday and anniversary celebrations, cook offs, and block parties. If our past experience is any indicator, if we are hired for a three-hour party, chances are at the end of the third hour, someone will come up and ask if the band is available to be hired for an additional hour … or two.
CEREMONIES
If you are looking for classical preservice music or would like to walk down the aisle to something more contemporary, we perform custom arrangements of your favorite music for your special day: Pachabel to Bach, The Beatles to Ed Sheeran. As a guitarist/vocalist, cellist, and pianist trio, we provide accompaniment for the preservice (20-30 minutes before), each of the processionals, the ceremony, and the recessional. We can also provide microphones for the officiant and any readers. When the cocktail hour for the event is in a space separate from the full-band reception area, we are also able to perform as the duet.
3 UNIQUE SOUNDS, 1 BAND
Within a single evening, we are able to sound like three completely different bands. In the first hour, our unique acoustic arrangements of pop and jazz songs, use of cello, and ability to keep the music upbeat while still light, welcomes everyone into the event. As the energy increases and dancing begins, we transition to sounding like a classic Motown or big band as we get dancing going to some familiar tunes from the past 50 years. Switching gears once more, we kick it into our specialty; non-stop, high-energy dance sets full of mash-ups, medleys, and impromptu performances.